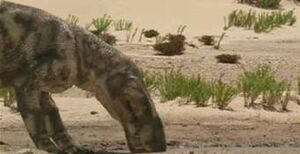 Gorgonopsid was a giant gorgonopsian that lived in Pangea.
Gorgonopsid was a saber tooth therapsid, That lived during the late Permian period, it preyed on a distant relative of turtles, Scutasaurus.
In other media
Edit
Gorgonopsid was shown in the first half of walking with monsters, clash of the titans.